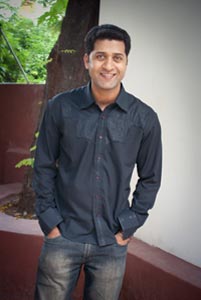 Rathna Shekar Reddy
Founder, President
The young theatre practitioner has been relentlessly working for years to bring theatre to young people of India and bring young Hyderabadis closer to Theatre. The master-mind behind Samahaara, along with co-founder Anjali Parvati Koda, Rathna Shekar has been catalyst in making Theatre "cool" in the twin cities. By associating with several schools and colleges, performing plays within the premises of institutions and corporates, conducting numerous workshops, many of them free, producing and directing numerous plays and by getting new audiences to theatre, he has been quietly responsible for what can only be called Theatre Revolution in the city for the last few years. He has been the first person to associate himself and his group with other theatre groups, has mentored several new theatre groups and youngsters by giving them support of every kind and most importantly, created a platform for those who became interested in theatre.
The Hyderabad Theatre Festival, 2009 was a one of a kind experience for both theatre groups of Hyderabad and theatre-goers. The 5 day festival at Bharatiya Vidya Bhavan got together young and old theatre groups of Hyderabad who then showcased their talent for an encouraging and eager city audience. Bringing groups from outside has been the norm, but Rathna Shekar believed that theatre in the city will never flourish unless the local groups are encouraged and made to perform, regularly on smaller platforms and sometimes on big platforms like the Festival he conducts. With a 30-strong team of youngsters from all departments, the Festival witnessed a new era of Theatre in Hyderabad. But it was not fully realized till The Hyderabad Theatre and Short Film Festival, 2010. This time, it was a 7 day festival in the iconic Ravindra Bharathi Auditorium, with support from several entities starting from Department of Culture, INOX cinemas and many others. In a bid to get people from other media, like films, to come and watch live performances, the Founders decided to host short films too. And what a success it was!
Older theatre practitioners in the city marvel at his focus and determination to create a Theatre Culture in the city. He achieved this by encouraging young directors by producing plays, pioneering the concept of employing fulltime actors for theatre in Hyderabad and by bringing in innovative ways of reaching theatre audiences. He also has been instrumental in bringing Corporate Sponsorship for the theatre festivals in a big way, conducting theatre workshops in collaboration with international theatre personalities like David Zinder (Israel), Stu Denison (UK), Mike Daisey (US, in associating with the US Consulate General Hyderabad).
Rathna Shekar has directed twelve plays and has acted in several Telugu movies, short films, commercials and corporate films. He has also been on the direction department of Walt Disney's production, Anaganaga O Dheerudu. He has an MBA, an MPA (Gold Medalist) from University of Hyderabad and has been trained as an actor & director at the prestigious Lee Strasberg Theatre and Film Institute, New York. With constant and consistent efforts, Samahaara is now proud to say that theatre in Hyderabad by the city folk is not sporadic nor does it lack in quality and experimentation. It is still an on-going process, but we can safely say, we are presently witnessing history happening right here, right now, with visionaries like Rathna Shekar Reddy leading from the front.